Fully animated 'Integer - Absolute Value' covers absolute value using real life examples.
This animation has audio.


Category : Math Integer
Type : Animation with sound
Animation Type : Regular
Total animation length: 5 minutes

The animation covers:
Absolute Value
Quiz section
Watch combined preview

Watch various movie clips related to integers. These are 1) Absolute value of an integer 2) Arithmetic operations of Integers 3) BODMAS Rule 4) Introduction to Integers 5) Number line - Representing History 6) Introduction to Natural and Whole Numbers 7) Representing Integers on Number line 8) Quiz on Integers. Click on the above thumbnails to go to the movie.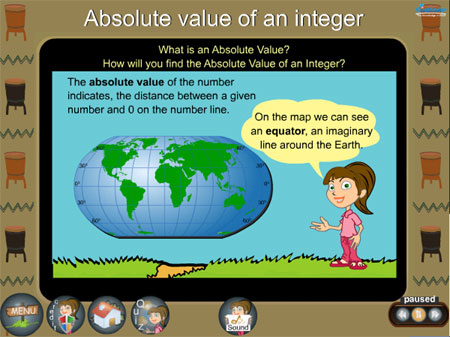 The animation of Absolute Value has been prepared keeping in mind the confusions of students while solving math problems of absolute value. This concept is tackled using real life situations.
Absolute value deals with the modulus of a number regardless of its sign. It is the distance of a number on a number line from zero; hence, it is never taken as negative. Thus, +6 and -6 have the same absolute value that is 6. It is often represented by |6|.

The animation covers the concept of absolute value using real life examples; a quiz section also checks your understanding.