How do I watch preview?
A preview is a trailer of the animation created by us so that you can have a look at the product features and animation quality and content before purchasing it, you may watch its preview from
Home page, product page or shop or other pages :

button or "preview" link, all the previews open into a new browser page and preview in flash 6.0 format are played into that page most of the previews are small sized few hundred KBs or so but some of them run into 1 -2 MB also, please check the product page for preview size and playing time.
If you cannot see the preview of a file then it is possible that you do not the flash plugin installed in your browser, go to http://www.adobe.com and install the latest flash player from their site. If even after that the preview is not visible, then contact us.



---
Do I have to purchase a Subscription to view its full version?
Yes, except for our free products, others have to be purchased prior to viewing their full version .



---

Where is my purchased subscription ?
In your 'My Account'
Go to my account :




The subscribed product will be available for mentioned days in your account from the date of the purchase after which they will be removed.



---
Why does clicking on "add-to-cart" takes me to "login" page ?

There could be a few reasons
1) You have not registered and are not a member, please register and login to access your shopping cart
2) You are a member but have not logged in, please log in to access your shopping cart
3) Your session could have expired, please login again.



---
What is meant by session expire ?
Login sessions expire for two reasons. For your security, your session expires a maximum of 30 minutes after you have logged in and there has been no mouse movement on the page. Normally if you have logged in and somehow your computer is kept unattended for quite sometime, there is a possibility that misuse of your account can occur in your absence, we try to minimize that misuse by expiring the session after 30 minutes.You can re-login to access your account again.



---
How do I purchase a subscription?
Once you have registered and become a member, then1) Login

2) Click on add-to-cart icon in home page, shop or all products page




3) when you click on Add to cart, your shopping cart will appear on page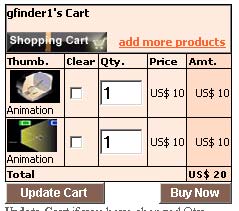 Thumbnail : show a picture of the product in cart, click on thumbnail to go to its product page, the shopping cart will go to whichever page you are in
Legend below thumbnail : specifies the nature of production whether it is an animation, CD or poster
Clear : Check clear and click on update cart to clear that product
Quantity : For multiple licenses you can buy more than 1 quantity ( this option is used by institutional buyers)
Price and amount: As displayed, if you keep the shopping cart parked in your account without purchasing and in the meantime price change then new pricing will be indicated in the shopping cart
Add more products : Takes you to shopping page
Buy now : Proceed to next stage in buying

4) Stage 1 : Modify shopping cart : In this stage you can modify your shopping cart's product add or remove products change quantity etc. Also here you choose your payment options

Credit card is the faster way than demand draft or cheque payment. We are registered with a

verisign authorized 128 SSL payment gateway ccavenue that processes all the cards. Please check out the verisign authentication.

Shipping is only charged for CDs, posters etc, direct downloading of animation does not require shipping and is not charged even if any shipping option is checked. Animation is downloaded through a link in "my account", section.

For Shippable product the shipping cost/ time will be calculated Ex India for delivery addresses outside India. Shipping is calculated as full shipping for first quantity and 50% for additional quantity Those within India the courier time will be 2-3 days and the charges will be actual charged by national couriers.

5) Stage 2: Delivery address confirmation for shipable products like CD or posters ( all animations are delivered online through a link in "My Account"), here you can change your delivery address, by default it is your registered address, changing the delivery address does not affect your your registered address.

6) Stage 3 : Confirm Order :you can use the browser back button to modify details in stage 1 or 2, the payment is indicated in both US $ and Indian rupees, the your card bank will be sending you the invoice in dollars only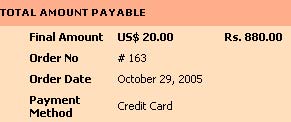 7) Stage 4 : Pay now : Pay through credit card. All credit card transactions are done through leading south asian payment gateway,Ccavenue; a trusted verisign authenticated payment gateway. Click here to verify their certificate. Do check out the payment gateway at http://www.ccavenue.com or click on the logo. Check out our payment security policy from here.
Complete the payment formalities by clicking on next button and you are taken to the verisign authorized 128 bit SSL secure payment gateway after that you are be brought back to the site or if you had chosen the Demand draft option you will be provided with the order no and the particulars relating to the Demand draft posting. In both cases an e-mail is sent to your e-mail address. The payment gateway will show the transaction value in Indian rupees, your credit card statement will show the value in US Dollars or its equivalent value in your currency.
Indication In Indian Rupees : The Indian rupees value is desired by our customers in India, when using direct bank transfer facility option offered by our payment gateway. A value lower than exchange rate is taken to prevent any overcharging due to rate fluctuation during the day.

Confirm exchange rate from the links below
http://www.xe.com
http://finance.yahoo.com/currency/


CREDIT CARD PAYMENT :



CREDIT CARD PROCESSING




DD OR CHEQUE PAYMENT:



---
How soon will I get the purchased subscription?

In case of credit card immediately, PayPal payment within 24 hours, in the case of DD or cheque payment the product will be visible in "My Accounts" only after the payment is credited to our accounts which may be as much as three weeks after dispatch of DD / check to us, we will keep you updated of the status through message in "My Accounts" or e-mail. Contact us through e-mail or phone or messaging service refer contact us for more details.


---
Is there any other mode of payment?
Refer to our Payment FAQ.