We are continuously losing or gaining heat and energy from the environment by radiation, convection and conduction. We also lose heat from our body by the process of evaporation (or perspiration and sweating). These mechanisms are
Radiation - radiant heat gain or loss to the environment is a function of temperature gradient.
Conduction – Conduction occurs through direct contact between objects.
Convection – Convection involves the transport of energy when one of the objects is in motion, it is like a process of conduction but the heat transfer medium should be in motion.
Evaporation: perspiration or sweating that involves evaporation of water to remove excess heat from the body.
For our survival and protection against injury by cold and hot climate, temperature regulation of our body is necessary in response to weather and external environmental agents like rain, wind, snow, cold and heat. The animated science software describes how our body is kept homeostatic and the narrow temperature range in which we operate as compared to other species.
A look is taken at the word "Homeostatic" and the need to have a temperature regulation mechanism in our body.
When the environment temperature shoots beyond 37 degree C or 98.6 degree F, our body keeps cool by employing evaporation or perspiration in addition to other thermo regulation mechanisms viz radiation, convection, conduction. The animation explains this by looking below the skin at the interplay of blood vessels and sweat glands.
It explicates the temperature regulation mechanism employed for our survival by conserving heat or minimizing heat loss when the surrounding temperature falls below core body temperature.
In the animation, we have explained hypothermia, frostnip, frostbite and heat stroke in detail including their symptoms.
Explanations of common phenomenon like goose pimples, redness of face after exercising is given.
Also explained is dilating of blood vessels instead of contracting below 10 degree C, survival when the core temperature falls below 28 degree C or rises beyond 104 degree C and survival by sacrificing the external organs like nose, ears and fingers, the way sweat works to cool the body are shown through the animation.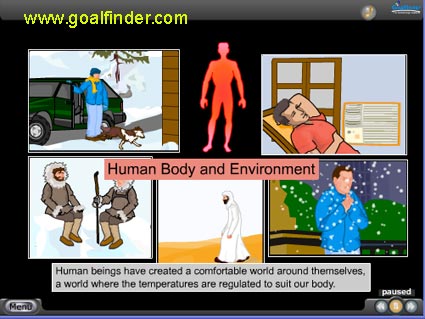 The animation has the following broad sections:
Thermoregulation: Fragility of human body
What is meant by homeostatic?
Why should our body be homeostatic?
What are the ill effects of wide variation from homeostatic temperature?
When the temperature is above or lower than 37 °C or 98.6 °F how does the body remain homeostatic?
What happens when the core temperature decreases?
How does the body react at extremely cold conditions? (Around (-) 10 °C skin temperature)?
At extremely high temperatures, how does the body react?