Dissolving of salt into water is an example of dissociation and dispersion (diffusion) of Na and Cl ions by water. Dissolving of Sugar in water and oil is also explained. The process is explained scientifically and in a step-by-step manner through an animation, for better understanding.
This animation has audio.


Category : Dissolving of salt in water
Type : Animation with sound
Animation Type : General
Total animation length: 7.5 minute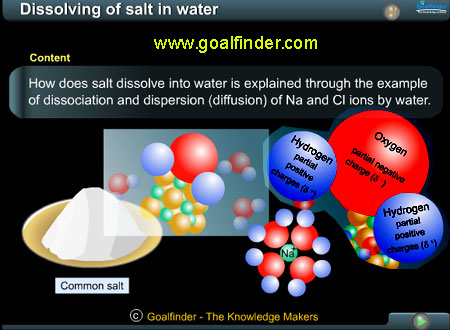 The dissolving of salt in water takes place due to diffusion of salt in water. The water molecule being polar in nature pulls apart salt crystals.
Salt dissolution takes place due to action of water molecules on salt lattice. When a lump of salt is added to water, the water molecules continuously collide with the lattices of salt. The diffusion of salt in water takes place due to interaction of polar water molecules with the NaCl molecules. The action results in pulling apart of salt lattice.
How does the pulling apart of NaCl take place?
What role has bond energy to play in this?
How does Sugar dissolve in water?
Why does sugar dissolve in oil but salt does not?
The animation explains all of the above in a lucid manner for students.
Q1:
what is the effect of heat when dissolving
Akram
20/4/2012
Ans:
Q2:
what is the effect of heat when dissolving
jayson
15/9/2008
Ans: