Brain cell (neuron)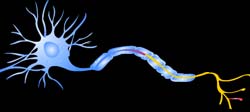 The human brain contains more than 100 billion brain cells called nerve cells or neurons. All neurons have same basc structure. Many number of nerves cells together are called nerve. Nerve is a pale, tough and string like structure and acts as a living telephone wire.
A neuron is a long cell that has a thick central area containing the nucleus; it also has one long structure called an axon and one or more short, bushy structures called dendrites. Dendrites receive impulses from other neurons. These impulses propagate electrically along the cell membrane to the end of the axon. At the tip of the axon the signal is chemically transmitted to an adjacent neuron or muscle cell.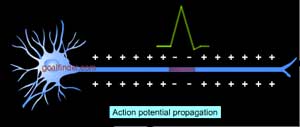 When the electrical signal (action potential) reaches the tip of an axon, it stimulates small presynaptic vesicles in the cell.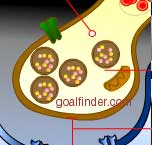 These vesicles contain chemicals called neurotransmitters, which are released into the microscopic space between neurons (the synaptic cleft). The neurotransmitters is attached to specialized receptors on the surface of the adjacent neuron. This stimulus causes the adjacent cell to depolarize and propagate an action potential of its own. The duration of a stimulus from a neurotransmitter is limited by the breakdown of the chemicals in the synaptic cleft and the re-uptake by the neuron that produced them. Formerly, each neuron was thought to make only one transmitter, but recent studies have shown that some cells make two or more.