Matter can be classified into pure substances and mixtures.
A Pure substance has uniform composition throughout.
It consist only one phase i.e. it consists of molecule of only one type
Example: Iron,water, table salt (NaCl) and sugar.
Pure substances are classified into two categories
1) Elements
2) Compounds
Classification of the elements is further done as metals, nonmetals, and metalloids.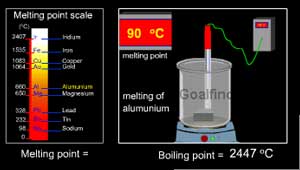 (Metals have a high melting and boiling point)
Compounds, in chemistry, are a substance composed of atoms of two or more elements in chemical combination, occurring in a fixed or definite proportion and arranged in a fixed, definite structure. A compound is often represented by its chemical formula. The formula for water is H2O, and for sodium chloride, NaCl. The formula weight of a compound can be determined from its formula.
Mixtures, in chemistry, are a physical combination of two or more pure substances (i.e., elements or compounds).
Example: Petrol, milk and air (Air is homogeneous mixture of oxygen, nitrogen, carbon dioxide and water vapour)
A mixture is distinguished from a compound, which is formed by the chemical combination of two or more pure substances in a fixed, definite proportion. The components of a mixture retain their own chemical properties and may be present in any proportion. For example, iron filings may be mixed with powdered sulfur in any proportion, and even if very fine iron powder is carefully mixed with powdered sulfur, the two components are easily separated by means of a magnet.
Mixtures are often classified as homogeneous or heterogeneous. Solutions and colloids are homogeneous mixtures. The components of a homogeneous mixture are too intimately combined to be distinguished from one another by visual observation. A suspension is a heterogeneous mixture. The particles in a heterogeneous mixture are coarse enough to be distinguished by visual observation.