Though J.J Thomson discovered the electron, it was left for Robert Millikan to measure the charge of an electron and thereby enabled the calculation of its mass.
Before Millikan Townsend and later on Wilson made an attempt to measure the charge on the drop but the experiments that they conducted were highly prone to large number of errors. The main failure was that there was no way of isolating an individual particle (So the values were suspected.) Until Millikan devised his land mark experiment.

For his experiment Millikan used very tiny oil droplets (due to its low evaporation rate). As the oil drops entered the chamber picked up charges through friction with the nozzle of the atomizer and colliding with air molecules.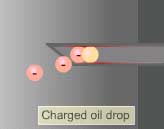 They were also subjected to radiation source so that the probability of charged oil drops will be high in the chamber.
These droplets were allowed to fall initially under the influence of gravity and air resistance. Millikan observed these drops through a microscope. By focussing on a single oil drop its terminal velocity was calculated. Then the oil drops were subjected to electric field.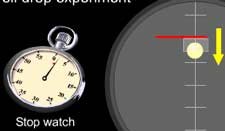 Since the oil drops were charged the electric force influenced them. An oil drop moving slowly towards the positive plate was focussed. Its terminal velocity was also calculated. Then by applying fluid dynamics in equations of motion, the charge on the drop was determined.
He measured the charge for numerous drops and found that the smallest charge was always 1.6 * 10-19 C. He assumed that this integer to be the fundamental unit of charge, the charge on an electron. From this the mass of an electron was calculated which was found out to be 1830 times smaller than that of a hydrogen atom.
This provided the evidence for electron as a sub atomic particle.
Thus Millikan found that
a. Charge is quantised
b. Electron is a sub atomic particle
c. Avagadro's number more accurately